The Apidura City Backpack nods to adventure inspiration but is built to conquer urban environments…
Bikepacking is a challenging pursuit that requires exceptionally tough and functional bags. And one name that consistently shines in this world is Apidura. The London-based brand has led the way for bikepacking carry for a decade. Their ultralight gear has endured some of the harshest environments on the planet and helped competitors claim podium finishes in countless bikepacking races.
Adventure cyclists trust Apidura's proven expertise. Especially in conditions where they simply can't afford to fail. But adventure cyclists aren't the only cyclists who need dependable bags. While their loads and environments are vastly different, urban cyclists still face a range of carry demands. So Apidura turned their precision-crafted, adventure-proven expertise toward creating a clean, functional pack that caters to urban cyclists.
Meet the Apidura City Backpack.
Bikepacking expertise meets city living
The City Backpack forms part of Apidura's City Series. A collection offering precision-crafted technical gear that's inspired by demanding bikepacking but designed for urban use. Designed with modern style and lightweight everyday functionality in mind, the pack aims to effortlessly adapt to a variety of environments, both on and off the bike.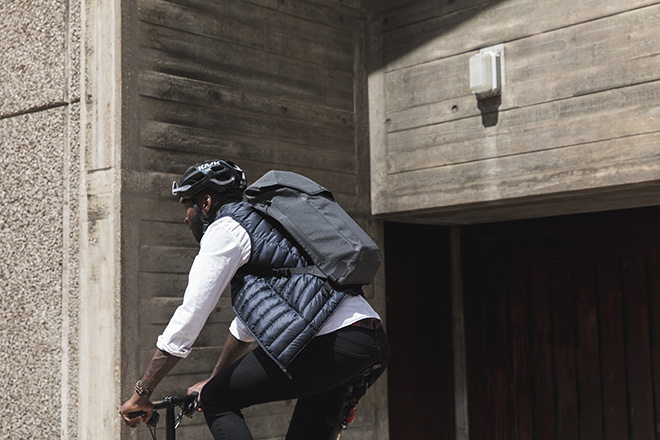 Urban cycling and bikepacking face similar challenges. Protecting gear when poor weather strikes. Ensuring gear is suitably safe and secure against bumps and scrapes. And equally important, delivering user comfort and a thoughtful carry design that's intuitive and straightforward to use. But urban cycling naturally has its own challenges, which the City Series and the City Backpack aim to conquer. Namely, how to create a technical pack that works on the bike but also transitions smoothly into a workplace environment and beyond.
Morning commutes to after-work drinks
A lot of cycling backpacks have performance features and styling that you appreciate while on the bike, but draw unwanted attention once you swap two wheels for the glow of a modern office space. Apidura have taken a different design approach with the City Backpack. It features a clean, minimalist and lightweight design made with a bespoke waterproof and abrasion-resistant CT420 Marle fabric. This creates a softer, more versatile look, that blends in well wherever it's carried, while still enjoying the technical performance you want from a commuter pack.
Wear it during your daily rides and trust it will protect your gear. Then stride confidently into professional work settings without skipping a beat. And when it's time for downtime, this pack is designed to tag along too, be it after-work drinks or weekend excursions about town. Is it a cycling bag? Yes. But importantly, it's not cycling-specific. And this adaptability is what helps the City Backpack stand out (or not, as the case may be).
Water off a pack's back
When you're on a bike, wet weather is unavoidable. But the City Backpack has been designed to shield your gear whatever the weather has in store. Not only is the fabric waterproof but the pack also features welded water-tight construction, ensuring water stays out and your gear stays dry.
Organized access on the go
It's clear Apidura have spent time considering access to your gear. The main compartment features an opening that can be accessed singlehandedly, so your regular interactions with it are smooth and fumble-free.
A padded sleeve securely stores tech devices, while interior mesh pockets and a zippered pocket neatly organize EDC and work gear. An exterior side pocket keeps smaller items close at hand and also features an integrated key leash.
Carry on in comfort
Anatomically designed for carry comfort both on and off the bike, the pack includes a waist strap and sternum strap that are both adjustable and removable to suit your preferences and preferred fit. Low-profile, quick-drying padding enhances carry comfort without adding unnecessary bulk. And because city riding can be demanding, the pack's straps and attachment points are reinforced with Hypalon to boost durability.
Safe in the city
Staying visible during urban cycling is important and the City Backpack has you covered with reflective detailing, as well as an attachment point for a bike light. So you're always in the line of sight of those folks behind the wheel.
Apidura have a long history of great design behind them. They make bags that can perform in extreme environments, and have been long-heralded because of it. Their push into the city makes total sense. There's a need for more commuting options with performance DNA, but with styling that shirks the common traps of performance-driven design.
The City Backpack may have been inspired by adventure heritage but it's not an adventure bag. Its home is very much in urban settings. Whether that's tackling the commute, keeping you smart in the office, or stepping out with friends. If that sounds like your kind of carry, check out the Apidura City Backpack and consider making it your commuter companion.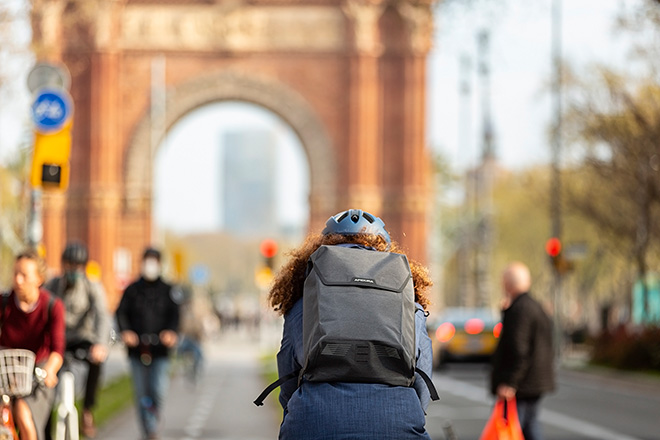 The post Apidura Release Lightweight Everyday Commuter Backpack appeared first on Carryology - Exploring better ways to carry.