It's no secret that I, and many of our other writers here at Carryology, are fans of Bellroy's products. Well designed, well made, and often with great functionality – their bags are created with the aspiration of being the best carry around. They often achieve that, and if they don't, they're very close. 
Their newest product, the Bellroy Venture Sling, is an evolution of their earlier sling and city pouch. Does it live up to the innovation of its older siblings?
Key Facts
Price: $129USD
Volume: 9L
Dimensions: 320 x 180 x 120mm 
Weight: 400g
Colors: Basalt (HeiQ V-Block), Bronze, Ranger Green, Midnight
Who It Suits
Those who like flexibility in their EDC.
Fabric fiends.
Who It Doesn't
If you prefer small slings, this is a larger profile.
Aesthetics and construction
One of Bellroy's calling cards is their fantastic looks, and even better fabric choices. As a company, Bellroy is focused on cradle-to-cradle philosophy to design, and minimizing their environmental impact. The foundation of the Venture is its recycled, water-resistant woven fabric. A semi-coarse texture assures you of the robust nature of this material and provides a tasteful mottled look that makes this sling, although larger, blend in.
The HeiQ V-BlockTM is a timely treatment to add to a bag that is intended for everyday use and will likely travel with you everywhere; the Swiss antimicrobial silver-based fabric treatment inhibits the growth of bacteria and is non-toxic.
All of the colors available are understated and muted. The Basalt colour I have been testing is a blue/grey mix which fits almost every style I can think of, certainly the ones I have in my wardrobe! A royal blue logo adds a little splash of color and keeps it classy.
The wide strap (detachable thanks to custom lightweight hardware) is very comfortable to wear for long periods of time, without the "dig" of some thinner straps. A wide main opening, courtesy of YKK AquaGuard zippers, makes access a breeze at a moment's notice and helps add extra protection when your bag is closed. As is often the case with Bellroy, this is a thoughtfully designed sling.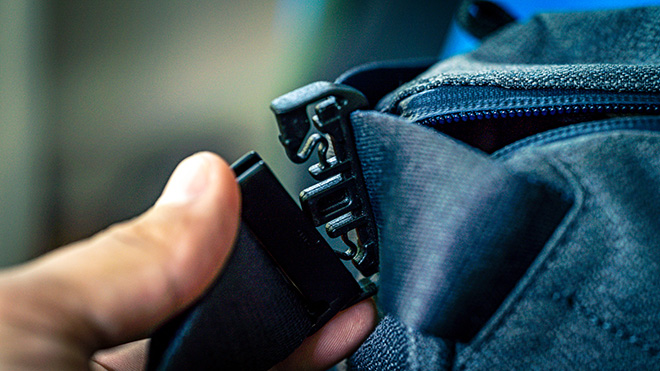 Organization
There are eleven pockets on the Venture. While it may sound like a lot, each has a purpose that after almost a month of use, I can't imagine not having. There is a front pocket with two elasticated mesh pockets – I found this to be the perfect spot for a mask, hand sanitizer, snack, and my keys – this pocket is also where the key loop lives.
Internally, you'll find a wonderful soft-lined sunglasses/glasses holder towards the top of the cavity and two stretchy pop pockets adorning either end of the sling. These fold nicely out the way when not in use but are great for smaller items.
On the back (padded!) wall of the sling is your EDC organization. Two pen, pocket flashlight, or knife slots, a larger phone/Kindle slot, which is next to a perfectly sized earbud spot. These all sit in front of a zippered pocket that runs approximately 70% of the length of the sling. One of the strengths of these pockets is how they sit out of the way when not in use. The material used is ever so slightly stretchy so that the pockets not only hold your items in situ, but also retain their slim profile easily. Slings almost have to have more organization by definition. But I think that Bellroy has done a great job here of keeping it simple yet effective. I don't feel that any of these pockets are there for the sake of it.
Functionality
I have a bit of an odd relationship with slings; while they are undoubtedly very useful – I find myself being picky. "It's too small for what I need today" or "It's too big and boxy" are phrases I've muttered to myself as I've packed. The Venture though, at 9L (6/7L when compressed) is a Goldilocks size for days out. The important word there is 'days' as this is the first sling that I've used that I feel I could rely on for a day of city exploration or similar, without taking a bag.
I've said it before about Bellroy, and I'm happy to say it holds true with this bag –"I've found that Bellroy's biggest strength is making usable products that simplify your day-to-day." On the Venture, you don't have to learn your way around the bag, where to put X and Y. Your hands naturally gravitate towards the right spot. The glasses pocket, for example, is on the front side of the bag. As I unzip the sling and open it, they are there ready for me immediately – which is exactly where I want my sunglasses to be – not buried at the bottom of my bag getting scratched and crushed.
The analysis for the aforementioned array of pockets is the same. They are where they should be and I can use the bag quickly, rather than holding up a line of thirsty customers at a bar while I grab my wallet. I find this design language has become a hugely important part of my requirements for a bag. And I'm happy to see Bellroy keeping it at the heart of their products.
The Venture is a versatile sling and one that I've found useful in a couple of daily situations. Firstly, as an EDC carry is where this really excels. It is big enough to carry a full-size insulated water bottle, jacket, headphones, wallet, keys, point and shoot camera, and more! Thanks to the expandable gusset it automatically grows or shrinks with your daily needs without the need for physical adjustment. I've found this feature useful when I needed to add my wife's jacket or purse to my sling, or when we picked something up while out and about.
Thanks to the padded back and bottom, this has also become an exceptional camera sling/cube. Now obviously, most slings can hold a small point and shoot. But not many slings can be truly useful for full-frame cameras. The Bellroy Venture Sling managed to hold my full-frame mirrorless and two prime lenses. Along with all the accouterments that come with taking that type of camera out – pocket rocket, straps, batteries, microfiber, etc.
It has usurped other specialist camera slings of mine for three main reasons. One, it is far more comfortable to wear than most rigid camera slings. Two, it is subtle; it doesn't look like I'm walking around with thousands of dollars on my body. I'm always very cautious of this, I don't like to advertise that I'm a potential payday for any nefarious types. Three, it's so easy to use! The two-way zipper makes it a dream to get in and out of quickly and the stretch pop pockets at either end of the main compartment keep my accessories close at hand. I've actually started to use this as a standalone cube when traveling (you can remove the strap if you want) with a backpack. It fits in perfectly and gives me two options on the road.
Perfect?
In a word, no. There is no such thing. While the Bellroy Venture Sling is undoubtedly a very good sling, it won't be for everyone. It does have a large footprint, and if you're smaller, it may be too big for you even in its compressed form. I'm 6ft tall, 220lbs, with a 44″ chest. As you can see from the photos, it spans almost the whole width of my body. Not a deal-breaker for me, particularly bearing in mind what I usually carry, but worth noting.
The other thing that I noticed is when the sling is fully loaded, it becomes a little more unstable on your body when you're active. Not an issue for day-to-day walking around, but on a bike or skateboard, it can move around a little more than I would like. Perhaps a small stabilizer strap from their backpacks could fix this? I don't think that either of these are reasons not to buy the Venture personally, but your needs may differ.
Verdict
I've been very impressed by the Bellroy Venture Sling. It is a versatile product that could come with me from the backroads to the boardroom. The profile, while large, isn't overly boxy, and it blends in nicely. The compression feature is unique and seamless in use, easily adjusting to your load. The excellent materials are sustainable and protective of your important EDC items. Critically, the functionality is second to none and allows you to carry efficiently, access easily, and enjoy your adventures. Bellroy have evolved their sling line, and elevated it with the Venture – let's hope it's a sign of more things to come!

The post Bellroy Venture Sling Review appeared first on Carryology - Exploring better ways to carry.