There's something about classic, black, full-zip hoodies that no other item of clothing can replicate. It's a very personal thing that can tell the world what you're about at a glance – it's not a one-size-fits-all situation. That hoodie can be everything from a safety blanket to a fashion statement. So when you choose which to rock for the day, it's an unexpectedly big decision.
We hope to make that decision a little bit easier with some of our favorite full-zip hoodies for Fall 2021. We've been testing these on cooler nights and some of those rare cooler days late in the North Eastern Summer. Whether you're taking a walk on the beach or hitting the local scene, we've got something to fit the bill.
There's no "best" hoodie, only the right hoodie for the right person in the right situation. And since we all come in different shapes and sizes, we decided to focus on things that would be important to everyone: build quality, materials, and pocketing. We'll let you know what we think about the general fit, but we're not going to focus on it too much.
---
Price: $118
Carryology Credential: The new classic
Best For: Casual, everyday use
If there was any one hoodie on this list that we'd refer to as "the classic", it's this one. The Flint and Tinder 10-Year is your hoodie from high school re-made for adult you. While we love to sing the praises of merino wool, terry cotton just feels like home, and it tends to be more durable; hence the name of this piece.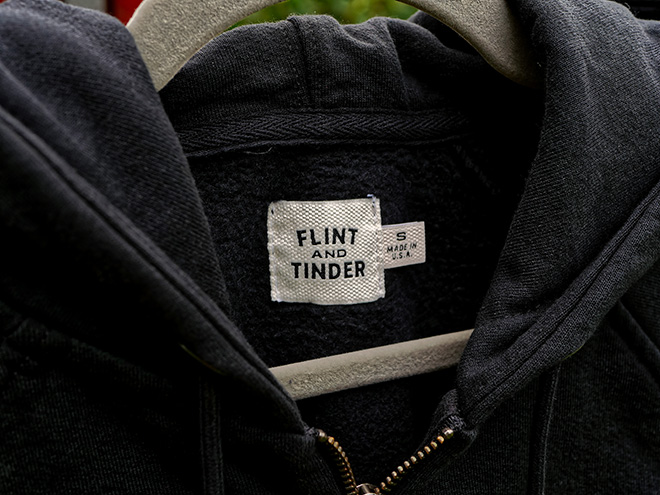 This was the hoodie I grabbed when I was just hanging around my house, or throwing the ball in the yard for my dogs. It has a heavy-duty feel to it that gives confidence in the fact that you can beat it around without really worrying; especially since F&T will fix anything that happens in the first decade.
What you see is what you get with the 10-Year – one metal zip and two pockets. Everything here is also sourced and made in the USA. The fit is on the generous side, but still true to size.
Note: zippers have been switched from brass to silver on the most recent version
---
Price: $185
Carryology Credential: At home on and off the bike
Best For: Staying warm on the road and trails at the end of the season
People on bikes get chilly too. For them, the Chrome Cobra 3.0 is a true standout, offering fit and features to cater to those of us on two wheels (and sometimes two feet). Chrome is OG in the bike softgoods game, and if you haven't checked out their clothing, now is a great time.
Made from a merino/poly blend, the Cobra will be able to take you through three seasons (maybe four) while keeping comfortable. Bonus points for eliminating those odors when you inevitably duck walk your cleats into the pub for a post-ride beer. The poly blend will also add some needed durability over the usual full-merino garbs.
When you're actually riding, the helmet-fit hood will easily pop over your helmet and cinch down into place, so it won't blow off in the wind. There are also thumb holes to keep your sleeves in place and your hands a bit warmer. I don't always prefer thumb holes, but on active full-zip hoodies I think they're a welcome addition. The rear side of the hoodie has a bit of a swoop to it to cover your back while you're in riding position, but not so much that it would look out of place when walking around.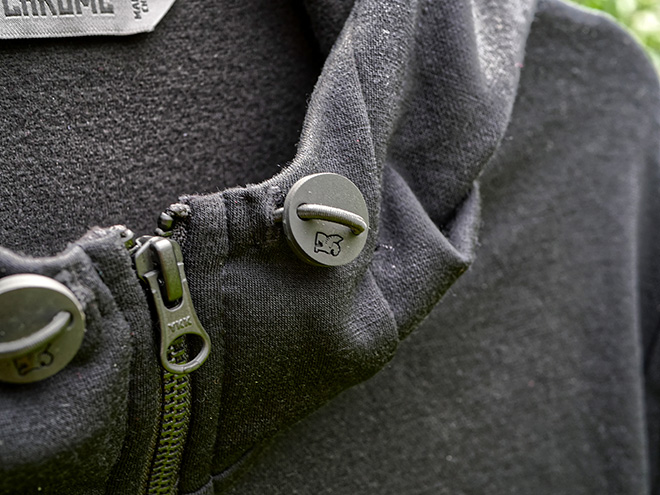 On top of the two front slant pockets, around back, the Cobra has a duck pocket to keep your essentials. It's a nice addition since the hoodie would be covering any jersey pockets holding your snacks or phone.
Since this is an active hoodie for riding it has room for movement while being trim and close to the skin. I found it true to size.
---
Price: $165
Carryology Credential: Lightweight and versatile
Best For: Jetsetters and one-bag travelers, traveling fast and light
Warm clothing is often bulky, especially when it comes to full-zip hoodies. The team at Unbound set out to solve this in the only way they know how – by using merino wool. It makes sense. Wool is compact, lightweight, and odor resistant. Those are the three main qualities you want in your travel clothing, and the Compact Travel Hoodie hits on all fronts.
It's sleek and stylish, so the Compact Travel Hoodie will feel at home everywhere from your flight to a night out. Not only will the power of merino help regulate your body temperature, but it also doesn't hold odor; so you won't have to worry about it your entire trip.
Other than being a well-built merino hoodie, there's nothing fancy here, and that's a good thing, keeping it versatile. The Compact Travel Hoodie is a trim fit, but true to size.
---
Price: $165
Carryology Credential: Form and function
Best For: A casual date night or grabbing a beer with friends
Okay. We know this one isn't black, but at the time of this writing this hoodie was so popular we couldn't even find a black one, so blue has to do. Reigning Champ is the descendent company of cult-favorite streetwear brand Wings+Horns. Reigning Champ takes a distinctly more low-key approach, hooking into the current athleisure wear fashion scene. If you're familiar with Wings+Horns, or even if you're not, the Midweight will feel right at home with its classic look and signature silver YKK zipper.
The Midweight, like much of Reigning Champ's lineup, is made from french terry. It's a knit cotton with high moisture-wicking properties. The pilled backside of french terry is soft to the touch, while the face is slick. It's that perfect middle ground between classic jersey cotton and merino. If you're not sure merino is for you, something like this is a great alternative. Honestly, even if you love merino, you still can't go wrong with the Midweight for daily use.
If you hadn't guessed, the Midweight is trim, yet true to size. It's a bit flashier with its silver zip and contrasting cream-white pulls, but it's good to stand out sometimes.
---
Price: $225
Carryology Credential: Highly tuned and modern
Best For: A night out in your favorite major metro, going for techwear undertones
The merino hoodie for the future. The Walter Sky WS-MH01 (yes that's the name) reinvents what a hoodie should be, and how it should fit. It's a high-performance, slick, fashionable piece of clothing with touches of luxury all around.
Each extra-long drawstring terminates with antique brass heads. Back at the base, each drawstring is kept in place by brown leather toggles that not only work well but look great. If you wanted a touch more flash in a travel hoodie, this may be a good option for you.
The WS-MH01 has an interesting yet fashion-forward fit. It's about 3 to 4 inches taller than any other hoodie on this list, meaning it could go well past your bum depending on your torso height. And while true to size, it's very much on the trim side. Dad-bods may want to look elsewhere.
---
Price: $128
Carryology Credential: The comfiest towel you'll ever wear
Best For: Fireside beach chats on cool nights
This was the hoodie that I figured I'd get the least amount of use out of. Why? I'm not even sure. But as of the time of this writing I've used the Outerknown Sur Zip longer than any other hoodie in this list. It's the perfect summer night piece for hanging with friends in the yard or sitting on the dock.
Outerknown claims it feels like a towel on the inside, and they're right, it does! A nice towel at that. The 55% hemp/45% organic cotton blend is a unique-looking and feeling fabric, almost looking pre-worn in a good way. There's no break-in period here like with some heavier gauge full-zip hoodies. It may even be the most comfortable hoodie in this list.
The fit is modern, but not extra trim, and definitely true to size.
---
Price: $250
Carryology Credential: A backcountry hoodie for a more modern age
Best For: An early winter hike or staying warm slope-side
This is your new hooded fleece. From the backcountry to your backyard this is the piece you're going to want. Houdini is a Swedish brand founded by female climber Lotta Giornofelice, and they've been going at it for 25 years now. Still, they're one of our favorite brands at the moment, kicking out some killer outdoor gear that's different from anything else we're seeing.
The Alto Zip Houdi is made from a unique blend of merino wool and Tencel, a cellulose-based textile. The result is a lofty fleece with all of the properties of merino you love with extra body and structure. It looks heavy and thick, but in reality, it's lightweight and packable, which even makes it a great alternative to some puffy jackets.
This is easily the warmest hoodie on the list, and probably the best suited to more serious outdoor adventures. The collar runs high and the hood runs snug to keep you warm, and the pockets and dual zips can vent heat in a pinch.
The fit is active, to allow for movement, but is still on the trim side and true to size. The sleeves and waist have a bit more length to them to keep you covered.
---
Price: $225
Carryology Credential: Stylish and hyper-functional
Best For: Anything. This is your everyday hoodie, elevated
If you're not sure what you're planning on using your hoodie for, or want something a bit more jack-of-all-trades, the Triple Aught Design Apex may be your go-to. The Apex is a modernized take on the classic, black, zip hoodie; just as comfortable around the house as it is on your next excursion. The Polartec Power Stretch Pro fabric is lofty without being heavy and has a nice four-way stretch. 
The pocketing is the standout feature on this hoodie; one zippered side entry pocket and one open top entry pocket. I've found the top entry pocket to be the most useful, giving me a good spot to keep my phone within easy reach. They also just give the Apex a unique look, unlike anything else we've seen on the market. Depending on your preference, this could be a good or bad thing.
The sizing was a bit of a conundrum for me at first; you can size this to be next-to-skin or a bit more traditional of a fit. For me, the Apex was slightly less than true to size; my normal size feeling next-to-skin more so than any other piece in this list. I'd suggest ordering a size up if you want a more everyday fit.
---
This list is a selection of some of our favorite men's full-zip hoodies on the market at the time of writing. We think there's something for everyone here, no matter your build or how you're looking to use it. Most individuals would benefit from 2-3 of the above full-zip hoodies in their rotation. Let us know which one you'd choose!
The post Our Favorite Full-Zip Hoodies for Any Situation appeared first on Carryology - Exploring better ways to carry.