Pros:
Clean, subtle, classic design.
Adjustable shoulder strap.
Multiple pockets for separate storage of items, including an exterior pocket.
Following the release of the Le Maillon satchel bag earlier this year, Saint Laurent seem to have very quietly just added another satchel bag to their collection – the Le Pavé.
Design
The YSL Le Pave satchel seems to have been designed to be one of those timeless classic style bags which are great for everyday use. Rectangular in shape, the bag is perfect for storing mobile phones, purses and all your small everyday items. The adjustable strap of the bag allows it to be worn either off the shoulder or across the body, also making it very comfortable to carry.
The Le Pavé is quite minimalist in its design, and doesn't bear the usual trademarks of the brand that the majority of YSL bags usually have. That being said, like all other bags from the French fashion house, it is has a very luxurious look and feel to it thanks to the 100% calfskin leather that is so smooth, many people liken it to a satin feel.
The Le Pave satchel has a collapsible flat pocket at the front of the bag and bears a magnetic rectangular link closure which has the Saint Laurent logo engraved onto it.  On opening the front flap, you have the Saint Laurent Paris logo embossed into the leather.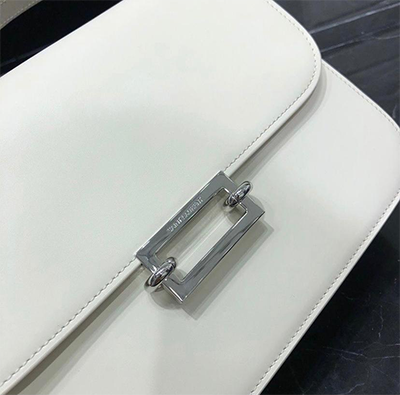 Photo credit: Instagram @lisababybag.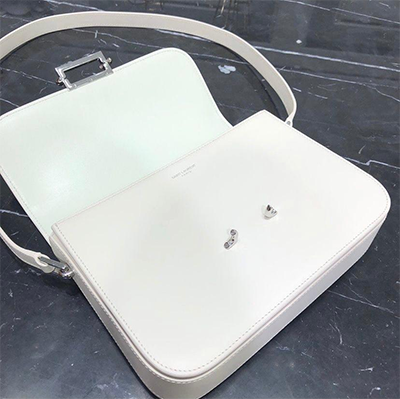 The inside of the YSL Le Pavé Satchel consists of a complete compartment, with one flat pocket and one zipped pocket, great for keeping everything separate. The interior of the bag is made from colour coordinated leather making the bag very robust.  The YSL Le Pavé Satchel also features a flat pocket at the back.
The Le Pavé is a little plain compared to other YSL bags, but that could also be seen as a plus if you're looking for something a little more subtle. Additionally, the simple design and practical colours allow this bag to carry through time without losing its appeal.
Saint Laurent Le Pavé Colours, Sizes and Dimensions
Boasting silver-tone metal hardware, the Le Pave is currently available in six colours – black, white, brown-green, mustard, brown gold, and saffron – making it a bag for all seasons.
The bag comes in one size 24cm L x 17cm D x 7cm H with a strap length of 40 cm.
The price for the YSL Le Pavé Satchel is €1,850/ $2,2290.
The post YSL Le Pavé – Another Satchel By Saint Laurent appeared first on handbag.reviews.